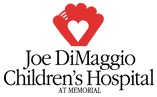 Tour De Broward benefiting
Joe DiMaggio's Children's Hospital
is calling on all area residents to lend a helping hand on Thursday, Jan. 12. Invited guests who bring in an identifying Joe DiMaggio Children's Hospital flier and dine from 5 p.m. to 8 p.m. at the Pollo Tropical located at 5548 Sheridan St. will have 20 percent of their purchase, not including alcohol or taxes, donated back to the hospital. Funds generated will support ongoing programs at the hospital.
The Tour De Broward benefiting the Joe DiMaggio's Children Hospital is a community effort to raise $300,000 for the "Dreams" pediatric cancer floor of the NEW Joe DiMaggio Children's Hospital! Events include Cycling Tours, Walks, Runs and Kids Event.
Pollo Tropical created its Benefit Nights program in 2008 to help nonprofit organizations such as the YMCA, Girl Scouts, Boys & Girls Clubs, local schools and Parent Teacher Associations (PTAs) raise money for special projects. The Benefit Nights program is available to organizations throughout the year.
How it works
The first step is to visit
www.pollotropical.com/community
and complete and submit a Benefit Night request form. Once a Benefit Night is approved, Pollo Tropical will identify a nearby restaurant location to host the Benefit Night. The organization is then responsible for distributing Pollo Tropical fliers for the event. Guests must identify themselves as being with the organization before the transaction is completed to ensure the charity receives credit for the sale.
Source:
Hollywood Gazette